Connection technology
Modular construction technology is easy, fast and creative. Finished wall modules are installed in a very short time. Raise the wall module with the lever roller, insert wall module into tongue / groove of adjoining module and lower, Finished!
Mila-wall - the easy, fast and economical way of architecture with the wall.
Modular construction
Architecture with pure wall. Mila-wall, the repairable long-term product. More air than wall, Mila-wall wall modules are so light they can be erected easily in any size by two people. The aluminum frame of Mila-wall 100 series stabilizes the wall and protects the edges from damage – guaranteeing durability and reusability. If particularly heavy exhibits are to be fixed on the walls, modules with solid wood blocking are available.
Wall modules containing windows are particularly suitable for meeting rooms, reception rooms, museum shops and showcases. For galleries, museums, art fairs and exhibitions Mila-wall is available with an interior nailable core.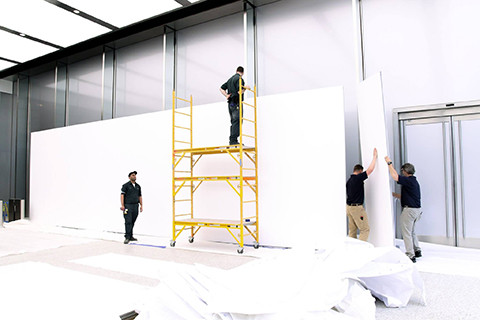 Creativity without limits.
Our wall series
The extensive range of colors and decors especially for interior design and exhibition stand construction allows the greatest possible freedom of design and gives almost any substrate an aesthetically high-quality surface, e.g., in metallic look or with a noble wood grain. Depending on the desired application, our films are permanently adhesive or removable, allowing interior walls to be completely redesigned within a very short time.